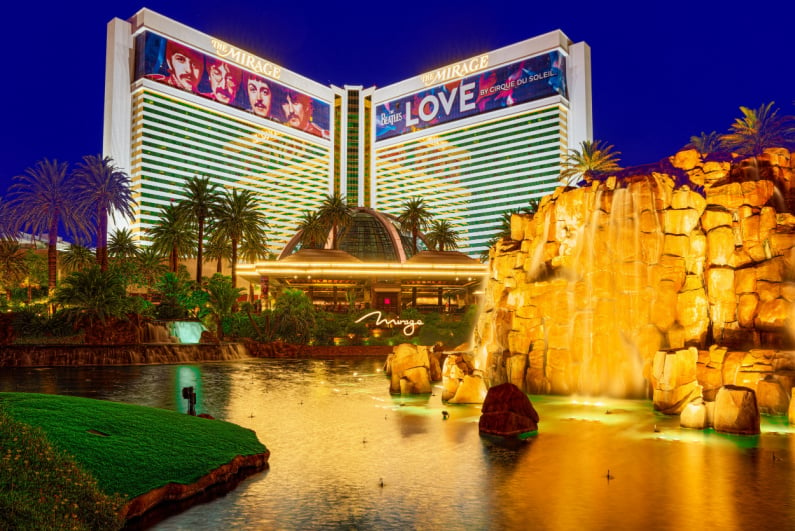 Hard Rock has revealed its plans to transform the Mirage Casino in Las Vegas in the coming years. [Image: Shutterstock.com]
Big turn
Hard Rock International has revealed plans to transform the Mirage Casino Resort on the Las Vegas Strip. The casino company submitted the plans to the Nevada Gaming Board of Control on Wednesday. It plans to invest billions in renovations, including building a hotel tower in the shape of a guitar.
The Mirage will remain open for the next 18 months
Hard Rock has not yet decided whether to close the property completely during renovations or whether to continue operations at some capacity. Whatever the case, Mirage will remain open for the next 18 months, at which point the company will assess its next move.
For now, the property will still be called the Mirage, but it will eventually rename it Hard Rock Las Vegas.
Big expansion
Hard Rock International President Jim Allen led Show on Wednesdaywhich took nearly four hours. He believes Mirage is a standout and that the transformation will "up the game for everyone in the sector". Allen talked about how Hard Rock likes to do big things and that the Mirage site gives the company plenty of scope to do just that.
The Mirage, opened by Steve Wynn in 1989, was the first mega-resort on the Las Vegas Strip.
The plan is to strip every one of the Mirage's 3,044 rooms and rebuild it. When all works are completed, the Mirage will have between 3,600 and 3,700 hotel rooms. Hard Rock has submitted plans to Clark County for a 998-foot guitar tower, but the structure will likely be no more than 660 feet.
The property's public areas, restaurants and casino will also be completely rebuilt. The total size of the property will grow by 80,000 square feet, to 174,000 square feet. The number of slot machines will double to over 2,000 and table games will increase from 51 to 212. New theater and conference space will also be added. Tours have been made on a petition to preserve the property's famous volcano attraction, though it appears its days are numbered.
Get the deal over the line
In December 2021, Hard Rock International announced that it had entered into an agreement with MGM Resorts International to purchase the rights to operate Mirage in a deal worth approximately $1.1 billion. The Nevada Gaming Control Board has recommended that the Nevada Gaming Commission approve the deal during its meeting this month.
Hard Rock currently operates over a dozen casinos in North America, with two more properties slated to open in the near future. The company is controlled by the Seminole Tribe of Florida.
When the deal officially closes, the Seminoles will be the first tribal state to operate the Las Vegas Strip casino. VICI Properties Real Estate Investment Trust (REIT) controls the Mirage properties and will lease them to Hard Rock, starting at $90 million annually.