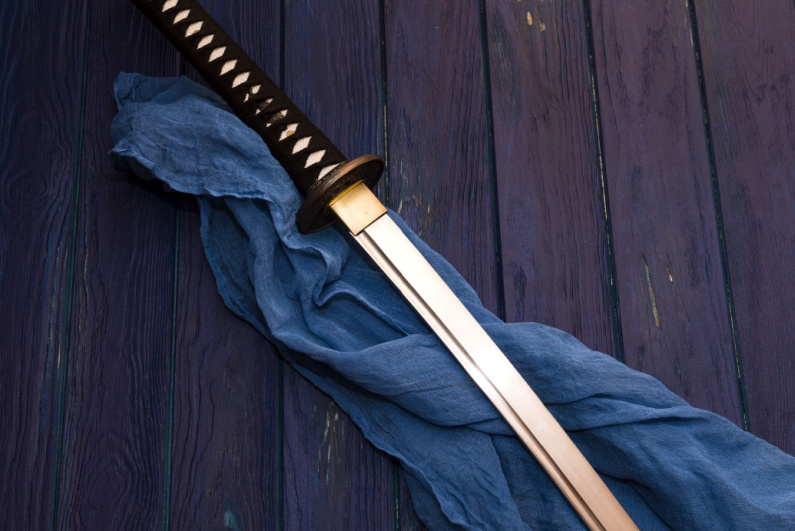 Akio Kashiwagi was a high-ranking gambler who gambled in casinos and was killed with a Japanese sword. [Image: Shutterstock.com]
Mysterious death
The world of gambling is full of mysterious, terrifying and fantastic stories, from bizarre bad hits to horrific robberies, murders and even ghosts. But when it comes to mysteries involving celebrities, the story of Akio Kashiwagi – who was murdered with a Japanese sword – comes to mind.
Distinctive features of the Japanese criminal organization known as the Yakuza
Considered one of the top five gamblers in the world, Kashiwagi's murder has never been solved. He was found dead in his kitchen at the age of 54, stabbed 150 times. However, according to reports, his death bore the fingerprints of the Japanese criminal organization known as the Yakuza.
Kashiwagi, known for his antics, would bet up to $10 million in a single gambling session. His favorite game was baccarat, a fast-paced card game similar to blackjack.
Scene mode
Although we know that he was the son of a carpenter and the middle child of ten siblings, Kashiwagi's life is mysterious. Aside from his busy activities, Kashiwagi was said to live a normal life. He worked as a farmer and later as a tour guide on Mount Fuji.
The story goes that later in life Kashiwagi became a real estate investor in Tokyo, generating revenues of $15 million a year. However, at the same time, he is believed to have generated an income of around $100 million a year and owned assets worth up to $1 billion, including a luxury home in Tokyo where he had a private chef who cooked marinated monkey meat for him.
He was also married to a famous geisha, six years older than him, and they had three children together. Before his death, he enjoyed samurai dramas and traditional Japanese furniture, and rumors spread that he had ties to the yakuza.
Trump hit
He met Donald J. Trump, a budding casino magnate in Atlantic City, met Kashiwagi in 1990. Trump first heard about Kashiwagi from the late Sir James Goldsmith, a European financier and casino owner, after Kashiwagi won $20 million at Goldsmith's Diamond Beach Casino in Australia. .
Trump was warned against inviting Kashiwagi to Atlantic City, as it was considered too risky. However, he went against this advice, hoping that Kashiwagi's celebrity status would give him the publicity he needed to promote Trump Plaza as a suitable venue for him.
Bet at least $167,000 on each hand and gamble for 14 hours
Stacks of $5,000 worth of chips were waiting for Kashiwagi as he arrived at the reserved table at Trump Casino. Trump may have thought Kashiwagi could raise the casino's profile, but the Japanese businessman ended up costing him dearly. According to reports, Kashiwagi bet at least $167,000 per hand and gambled for 14 hours.
While casino games tend to have a built-in house edge, in baccarat this advantage is relatively narrow for the dealer. After two days of playing, Kashiwagi announced that he was returning to Tokyo with millions of Trump dollars in his pocket. Reports vary on the exact amount, but it is believed to have ranged between $6 million and $9 million.
The story made headlines around the world as it was believed that Kashiwagi had nearly bankrupted Trump:
An expensive return
Unsatisfied with the loss he suffered the first time, Trump wanted Kashiwagi back, but this time he wanted to make sure the baccarat gambler played longer. Under Trump's proposed "freeze" agreement, Kashiwagi would bring $12 million to the table and play until he doubles it or loses everything.
The key to this new agreement was to avoid a repeat of what happened last time by keeping Kashiwagi playing as long as possible. After 75 hours, his chance of beating the house will drop to 15%.
It wasn't long before Trump found himself losing $15 million to Kashiwagi, causing him to consider ending the game early. However, based on the possibility of Kashiwagi losing in the end, Trump was told to wait. The gambling continued for another five days. On the sixth day, Trump finally got the money back from Kashiwagi: $10 million.
Many stories have emerged about what happened next. The first was that when Trump got the $10 million, he called off the match, which Kashiwagi agreed to even though he was not pleased. The other is that Kashiwagi claimed that Trump violated the agreement by canceling the game before losing the full $12 million. Either way, Kashiwagi clearly left Atlantic City owing Trump money.
Death theories
Kashiwagi gained popularity from his adventures in Atlantic City, and was met with media attention upon his return to Japan. A year after his fight with Trump, the story goes, Kashiwagi ran from TV cameras, tripped on the sidewalk, and broke his ankle. The high roller then retreated to his home and was not seen again until his stabbed body was discovered in his kitchen.
Although his killers have never been found, there is speculation about his death and the manner in which he died.
By losing this huge sum, Kashiwagi put himself in the crosshairs of the yakuza
The most famous story is that Kashiwagi had an affair with the yakuza. Many believe that he was able to gamble such large sums of cash because of his connection to the organized crime group. Kashiwagi may have put himself in the crosshairs of the yakuza by losing this huge sum to Trump.
Another theory, perhaps more bizarre, is that it was Trump who killed Kashiwagi because he refused to pay his outstanding debts. He is believed to still owe $4 million to the Trump Plaza Hotel and Casino after his death. Gaming executives confirmed that his debts to casinos in Nevada and Atlantic City amounted to about $9 million.
Whatever the reason behind his untimely death, Kashiwagi will always be known as one of the most prolific gamblers in the world.